Resilient Pastor Cohort
September 8, 2022 @ 8:00 am

-

March 30, 2023 @ 5:00 pm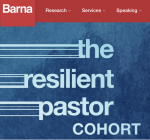 Description:
Pastors: Grow in resiliency! Attend the "Resilient Pastor Cohort" hosted by Barna Group, a 6-month virtual learning community starting Sept. 8.
One way to implement David Kinnaman's recommendations on pastoral resiliency (David was the plenary speaker at NOW District Convention) is to register for this easy-to-access cohort that ends with a face-to-face retreat in March 2023. Don't wait, the cohort starts soon!
Go here for more information and to register.
What It Is:
Resilience is not about white-knuckling our way through the storms we face. It's a work of grace that re-orients our hearts toward Jesus over and over again—and it's often formed and sustained in community.
That's why Barna is offering a 6-month cohort for pastors who want to connect with fellow church leaders and learn more directly from Glenn Packiam—as well as Danielle Strickland, Sharon Hodde Miller, Rich Villodas, Ashlee Eiland and Scott Sauls.
What's Included In The Cohort:
Monthly Zoom meetings to hear from faculty members about their experience with a particular challenge pastors are facing. After each faculty's presentation, Glenn Packiam will lead the group in discussions on these pressing ministry topics. These virtual gatherings will happen once a month from September until February.
75-minute breakout group calls led by Danielle Strickland to share what you are learning and how you are wrestling with specific challenges in your own context.
In-person retreat featuring sessions with each faculty member, time for rest and fellowship with the other pastors participating in the cohort. Meals will be included. All participants will be responsible for their own airfare and lodging.
If you're ready to explore and practice the disciplines of resilience in the company of fellow leaders, join this cohort!