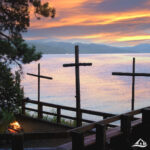 July 30, 2023, was a big day in Idaho, as Shoshone Mountain Retreat celebrated its 25th anniversary. This marked 25 years of campfires, 25 years of outdoor worship, 25 years of activities, 25 years of Idaho Servant Adventures projects, and 25 years of life-changing ministry at this special spot near Lake Coeur d'Alene.
Shoshone Mountain Retreat is part of Lutherhaven Ministries – which is the largest provider of day and overnight outdoor education programming for school-aged children in the Inland Northwest region. Each spring and fall, nearly 3,000 children come to Lutherhaven or Shoshone for adventure, environmental studies, team building, and more. This camp – and all of our NOW District camps – is a partner ministry that is supported by many congregations through donations, service efforts, and participation from NOW District youth and children.
The story of how this all came together is really quite fascinating: In the summer of 1997, Marg Petzke left a newspaper clipping on Bob Baker's desk at Camp Lutherhaven and didn't think much more of it. The article shared the availability of the US Forest Service's former Shoshone Work Center, 30 miles up the North Fork of the Coeur d'Alene River in the Bitterroot Mountains on the Idaho-Montana border.
Lutherhaven's leadership put a proposal together to manage the abandoned property and submitted it to the federal government in three weeks — before the Lutherhaven Board of Directors even got the chance to hear about it. A short 30 days later, a call came in from the Idaho Panhandle National Forest: Shoshone Camp was "ours!" Soon after, more than 3,000 volunteer hours helped repair over 15 years of neglect at the base camp to welcome the first summer of Lutherhaven Ministries campers.
After a few more proposals and grants, hundreds of moving parts, some hundreds and thousands of campers/volunteers/staff members the camp is what it is today. And on July 30, more than 150 Friends of Camp gathered in the chapel at Shoshone Mountain Retreat to celebrate the anniversary of 25 years of ministry.
Find more info on Shoshone Mountain Retreat and Camp Lutherhaven.