For the past 14 years, Gate City Community Church of Chubbuck, Idaho has put on an event aimed at providing school supplies to kids in need. Five years ago, Grace Lutheran Church in Pocatello, Idaho came alongside as a partner and helped share the hosting duties. This year, Grace was able to step up and take on the entire hosting role at the last minute. Read a preview of the event here and the recap by Rev. Jonathan Dinger below.
When the parking lot at Grace Lutheran Church opened on Saturday morning, Aug. 5, there were already more than a dozen kids and their families snoozing in sleeping bags or lined up in camp chairs. Why? To be among the very first to get a backpack and a year's worth of school supplies for the coming year.
The "Back2School Backpack Giveaway" has a 14-year history, growing from just a few dozen kids served in Chubbuck at Gate City Christian Church to more than 2,200 kids served in 2019 – the pre-pandemic year. With the past few years seeing the event diminish or change due to COVID-19 restrictions and leadership and funding challenges, Grace Lutheran in Pocatello was asked to take on the event in its totality… just 9 weeks before the event was to take place.
Before, the event had been led by Gate City Christian, and Grace provided the location, volunteers, and modest funding assistance at both the school campus and the Mountain View Event Center (a facility owned by Grace and operated by the Pocatello Auditorium District). But now, it was all coming to Grace.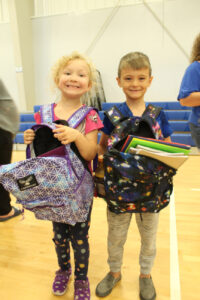 Thankfully, the NOW District and LCEF took the lead in helping to provide immediate funding. Along with strong individual donors, Pearl Health (owned by St. John Lutheran in Idaho Falls member Zak Warren) and Hirning Buick GMC (Grace members Kelly and Kim Hirning), all the funding to purchase supplies for up to 2,000 students was in place.
Supplies arrived in late July… 108 total volunteers signed up… Gate City pastor Josh Robinson provided essential coaching… at least five different congregations were represented with volunteers… and with 6,000 bottles of water, 2,000 hot dogs, and 20 pop-up tents and lots of "sweat equity," we were ready to receive folks on Saturday morning. The line stretched nearly 300 yards throughout the parking lot, and cars filled both the Event Center lot as well as Grace Lutheran's lot.
From 10 a.m. until just after 1 p.m., nearly 3,000 souls made their way through the lines, and a total of 1,010 students received a year's worth of school supplies in a backpack they got to select themselves from nearly a dozen options. Since that day, we continue to distribute backpacks with supplies, and another 26 students have been served.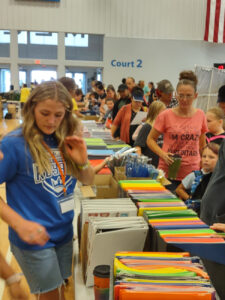 In addition to school supplies, families were able to select a free book at reading level, a winter coat (thanks to our summer VBS families), and essential food boxes from the Idaho Food Bank. They were also able to make a connection to Pearl Health for any counseling or mental health questions. Then a hot dog, bag of chips, and cold water gave everyone a meal for the road.
Our hope is to find a way to serve every kid in need of school supplies (which we believe helps provide school success!). Oddly enough, our real prayer is that folks would be so blessed in our region that the day would come when we never need such an event — and that places like food banks and women's shelters and homeless shelters would no longer be needed. But as long as they are, we hope to an expression of God's great love to those in need.
Before the pandemic, the event also included dozens of vendors providing services from hearing and eye checks to fire and safety protocols, educational assistance as well as games and more. Our intent is to revive the "carnival-like" atmosphere of those years in subsequent years.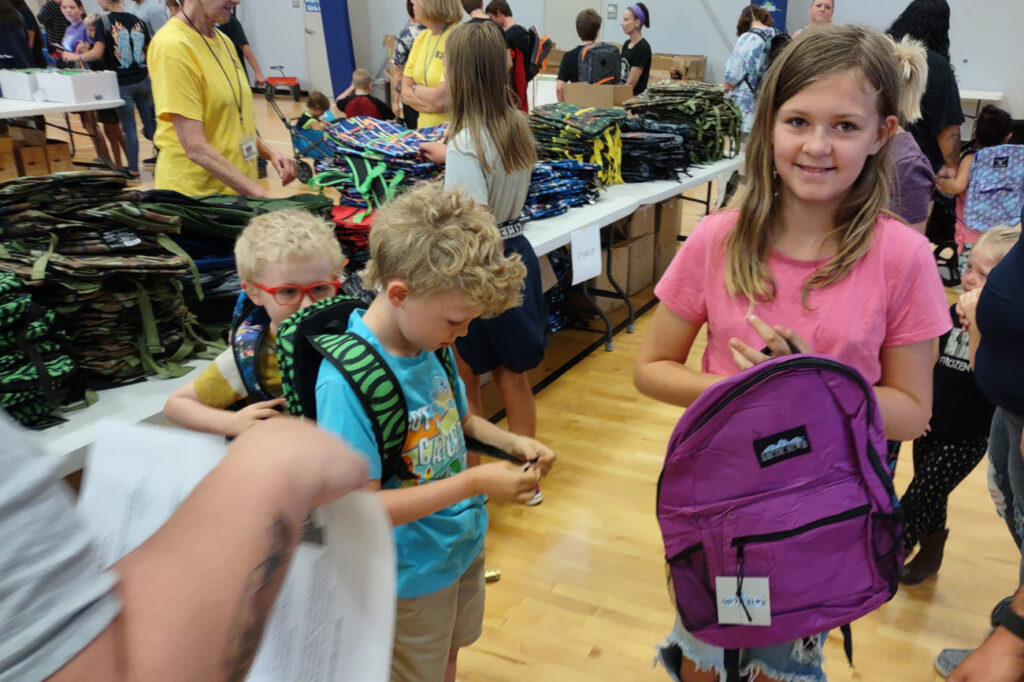 "Everyone matters to God. Therefore, everyone must matter to us." Regardless of who we hang out with or consider "our people" or our circle of friends, there's not a single person you ever see who God did not consider valuable enough to send His Son to save. Our neighbors – no matter their financial circumstances, history, or spiritual condition – are our neighbors and precious to us. The folks at Grace wanted to convey that love and reflect God's great love to us to our neighbors. The warmth, joy, and laughter that infused the entire day was a wonderful testimony to that goal, and we pray that our Lord was honored and His people loved that day.