There's a buzz in Boring, Oregon over a new business venture that officially held its grand opening earlier this year. Introducing Homestead Barbershop, which is owned and operated by former NOW District DCE Jeremiah Drelleshak.
What makes this barbershop so special is not just the services offered (which are excellent, by the way), but is more about the mission it seeks to fulfill. This is outlined on Homestead's website: "We believe that if a man looks good and feels good, he might ultimately do good in his family and community. Our vision is that you find the barber chair a place of authentic civil, social, and spiritual discourse." It's also about where this mission is fulfilled: in the community.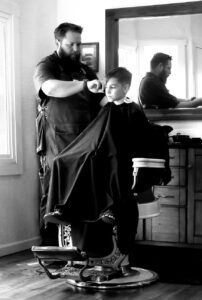 "As barbers, the community often looks to connect with us," Drelleshak said. "They want a barbershop experience that includes someone they can share their hopes and sorrows. By mixing good quality service with genuine relationships, our reputation has quickly spread throughout the surrounding communities. A huge part of us deciding to start a barbershop where we did was that it was in our community. My kids go to school here and my wife teaches close by. There have been times that our family has been able to connect with local families on multiple levels of their lives."
The goals of Homestead Barbershop are two-fold. "The first is being an asset that the local community counts on. Whether we are leading social gatherings, hosting town meetings, or cleaning up garbage after community events, we want to be a business that all surrounding communities desire to have," Drelleshak said. "Our next goal is to train other barbers who want to change a community with a shop of their own. To replicate our business and community engagement model to others who have the same vision of doing tangible good."
So when men sit down in a chair at Homestead, they will be treated to a haircut, a straight razor shave, or some beard work – plus the listening ear of someone who truly and genuinely cares about them. This helps create those lasting connections that have such a profound impact.
"My original goal was not to necessarily go into the barbershop route, but rather to follow whatever path that Christ lead. Barbering was just one of the many doors I was knocking on, so once I got accepted into the barber program, that was really when the needle on my compass started to spin and I begin the map out what this vocation could become," he said. "The DCE and barber are very similar in terms of pastoral care. People, men specifically, don't really get a lot of positive encouragement – encouragement as well as the ability to listen more than speak."
It's a big jump to go from professional ministry to cutting hair. So how does one make that leap? It happens with a few doors closing and few others opening.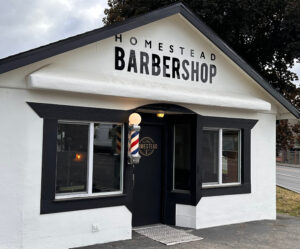 "While I was working as a DCE, I quickly found that if I wanted to impact the community around me, I had to walk alongside the men of the family. In our culture – though our church institutions do a lot of good – we often struggle on answering the call to the great adventures of being husbands, fathers, and sons. This first sparked the idea to have a career that grounded me into the community," he said. "Spending time with a mentor of mine, we prayed a simple prayer: 'Lord, open doors wide you want open and shut doors hard that you want shut.' I tried many different trades to see what God had in store, and all the doors closed pretty hard and quickly. In all honesty, I don't remember when the barbershop idea popped into my head, but I remember it checked all the boxes of how I could do a real good in my local community. When the idea of the barbershop finally solidified, I knocked on the door and God opened it fast and wide."
Like any journey, the path of Homestead Barbershop has not been without its challenges. When Drelleshak left his job in the ministry to start barbering school, he made up for the lost income by driving for Uber from 4 a.m. to 9 a.m. Add to that the stress of becoming a rookie all over again at 30 years old. He likened the experience to the storm that the disciples faced with Jesus asleep in the boat. "Often I had to ask for a reminder that this was truly the mission He had for my family. Fortunately, God is always faithful and sent me reminders that He controls the wind and the waves and calmed them in His timing," he said. 
Drelleshak has seen Christ work in his life in a very strategic way – similar to a game of chess. And he has experienced some significant wins during that time. These include the moments where his role as a barber transcended that of a mere service provider.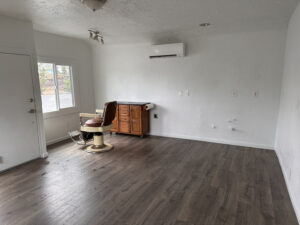 "Though the game is far from over, I am in a position that I can embrace a level of gratefulness that I would not have understood without stepping into this unknown," he said. "Recently I also had a win that I had always hoped for since this calling started: Immediately after a haircut, a client looked at me and said he was hurting and angry and asked if I would pray for him. Right then, in the middle of a busy day, I prayed with him. We said 'Amen' and then the next client sat down. For that moment, in the middle of the mundane work week, we stood on holy ground."
He recently had the opportunity to tell his story during NOW Start Network's "Germinate" event in Puyallup, Washington this past April. "Germinate" was designed to help leaders collaborate together and to encourage creative and innovative new ministry starts – and Homestead Barbershop certainly fits that bill. Being part of NOW Start Network and having support from other leaders has been helpful in getting him where he is today.
"This is sometimes our calling to the mission life. Sometimes Christ only gives us enough light to take the next couple steps forward and it is easy for us to get discouraged. For me, The NOW Start network upgraded my dim watch light to a high-powered flashlight. It put people in my corner who were able give me tools that helped me turned this vision to a reality," he said.
See more at: https://homesteadbarber.com/
NOW Start Network story: https://nowlcms.org/stories/whats-germinating-the-now-district/