Thirty two leaders from across the NOW District, from Pocatello to Anchorage, Spokane to Salem, gathered in Puyallup, Washington on April 21-22 for "Germinate," a NOW Start Network event to seed and inspire new ministry starts.
The love of Christ filled the room as Immanuel Lutheran Church shared the way its coffee shop ministry, Thr3e on the Avenue of Hope, is providing a third space (1. Home, 2. School, 3. Thr3e), where teens can be cared for, loved, mentored, and encouraged through the complexities of adolescent life. People wondered why the Son of Man came "eating and drinking" (Matthew 11:19); he did so to connect with those who needed the healing power of God's love most. Through Thr3e, the folks at Immanuel are doing the same with teens over coffee and bagels. Stop in for a visit yourself: www.thr3ecoffee.org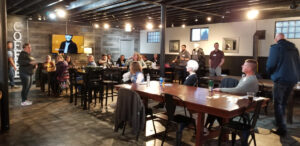 Romans 1:6 speaks of us as those who have been "called to belong to Jesus Christ." George Bedlion III of Garden City Church reminded us that Jesus' disciples were called to belong to him before they even understood who he was. So it was with everyone who came to Jesus; they found belonging first, and their understanding of Jesus and change of life followed. Church planting in the soil of the Northwest bears fruit from a similar approach, when those who are unchurched first feel like they belong.
After reminding us that is it by Jesus laying down his life for us that we know what love is, the apostle John encouraged all of God's children, "Let us not love in word or talk but in deed and in truth" (1 John 3:18). The Lutheran Church of the Good Shepherd in the Central District of Seattle has been doing just that. Lay leader Steve Tucker said, "Good Shepherd wants to recognize the dignity of homeless people. Everyone needs sanitation, shelter, and a place to live." So when the city of Seattle was removing homeless people from public properties, Good Shepherd welcomed the Nickelsville encampment to its property. In 2015, through a partnership with LiHi (Low Income Housing Institute), they took the next step by building the first tiny house village in the Puget Sound area to provide more established shelter for those needing it. Now the tiny house village has moved on, and The Lutheran Church of the Good Shepherd in partnership with LiHi is in the midst of constructing an 86-unit low-income apartment complex on their lot for transitional housing for the homeless population. As Steve shared, people of Good Shepherd are eager to give a "financial breath" to those who need it, and the breath of life from Jesus too. Learn more: www.goodshepherdlutheranseattle.com
Jesus said: "Whoever follows me will not walk in darkness, but will have the light of life" (John 8:12). Jeremiah Drelleshak reminded us that Jesus' light is not always a flood light; sometimes it is the equivalent of the glow of a Casio watch that enables a lost cave explorer to take one or two steps at a time. That is what it has been like for Jeremiah as he has followed the Lord's lead, step by step, from parish ministry as a DCE into a new phase of ministry: barbershop ministry. Jeremiah spoke of how the network of support he found with the NOW Start Network turned his little Casio glow of Christ's light into a full-fledged flashlight until he found his way. He has just launched Homestead Barbershop in Boring, Oregon, where the barber chair connects men to even more than a quality haircut — it connects them to the Savior as well. Check it out: www.homesteadbarber.com
The day finished with the sharing of several spirit-filled sparks for new ministry:
— A Saturday night music club and a connection with homeless parents and their kids in Federal Way, Washington
— An outreach to moms juggling the demands of parenthood in Salem, Oregon
— A community food bank in Graham, Washington
And the recipient of the $1,000 spark grant provided by LCEF (The Lutheran Church Extension Fund): A catechism translation project to support an evangelistic Bible Study in the Mayan language which is connecting people from Portland, Oregon with Mayan people in the Yucatan region of Mexico.
NOW Start is a network of leaders across the NOW District eager to help support and hone your ideas for starting new. Even if you missed the Germinate event, it is not too late to get connected. Look us up at www.nowstart.net.