The 2023 Oregon Pastors' Wives Retreat was an event coordinated by a group of determined women in the NOW District. These planners faced many challenges in getting it off the ground – but overall, it was an incredible blessing to all who attended.
"It was just wonderful to connect with other pastors' wives and hear their stories, struggles, and joys," Colleen Ek noted.
Here's what the journey looked like: In September, God opened the door for Elizabeth Lopez to go to the Oregon Pastor's Conference. While there, she ran into Michele Sprengle and mentioned the possibility of doing a retreat for pastor's wives. Sprengle said: "I'll be honest, I can help you find a place, but I'm not sure what else I can do." Lopez was relieved to hear that someone could do the administrative side, and they rejoiced knowing there were already several other ladies who were willing to help.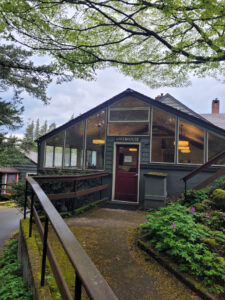 So the planning began. After considering options for a location, only Menucha Retreat & Conference Center in Corbett, Oregon answered their request, offering them a May 2023 date. Even though May can be quite crazy for teachers, the women all agreed to roll with it. They now had 20 spaces to fill. It seemed both a huge mountain to climb and so easy because it was "only 20." Little did the planning team (consisting of Lopez, Sprengle, Ek, and several other pastor's wives) know how many obstacles they would face – including the death of a family member for one and a completely new call for another!
The planning team started calling NOW District pastors' wives to invite them. Many times, those they spoke to would be so excited at the prospect of attending, only to have to decline because of too many commitments. One of the women on the planning crew came face to face with all the plans for 8th grade ceremonies and needed to stay for those family commitments. Yet Lopez, Sprengle, and Ek persevered, praying for the Lord to make miracles and bring people. Plans were formed, changed, canceled, changed again — and yet the three ladies could see that the Lord truly wanted them to "be still and know that I am God." Another translation of this verse could be, "Cease striving and know that I am God."
Two different times, Lopez prayed on the way to work: "Lord, if this is not from you, show us that we should cancel or quit." Each time a different pastor's wife called to say, "I want you to know that the Lord told me I needed to go to this retreat. He told me I need to be there."
Once they made it to Menucha, one attendee shared with the whole retreat her story, her journey with her husband, through the mountains and the valleys, seeing in every circumstance, "the name of the Lord is to be praised." Her faithful witness blessed many that day. One pastor's wife shared her artwork with the ladies. Another pastor's wife, Donna Hues, shared the story of her journey to becoming a published author. She ended up writing three books, a devotion, organizing her grandfather's writings into a published journal for her family. She also blessed the retreat with her piano playing to accompany worship songs.
Ek, an introvert at heart, stepped up in all the changes to lead ice breakers and brought the ladies questions, being that she was one of the newest to the role of pastor's wife. She deepened the fellowship and helped everyone to share stories of how the Lord has worked even when He has called pastors and their families far from family and friends. She also had the great idea of putting names on clothespins and then drawing a name of a person to pray for throughout the year.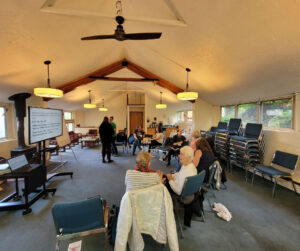 Lopez led a study on a book written by Deb Burma, based on Psalms 46, "Be Still and Know" through the storms of life. Attendees were asked to reflect on how God was with them through whatever storm they were facing. The main chorus sung was "Open the Eyes of My Heart, Lord," as each prayed that God would allow for them to listen and see all the good that He has for each pastor's wife through whatever storm they might encounter. They saw that "even the winds and the waves obey Him," and remembered who it was that is there for them as well, no matter what the feelings of their hearts might be.
Altogether, 16 ladies were able to attend at different times, and they were even blessed by most every flower being in bloom. The garden area was in full bloom of rhododendrons. One attendee event brought her new baby (1 month old at the time of the retreat).
This retreat was truly a respite, and the ladies went back to their churches encouraged to continue the work that the Lord had for them. They are especially thankful to LCEF and to several anonymous donors who helped with financial assistance.
Afterward, the three planners – Lopez, Sprengle, and Ek – sat together and began working on ideas for the next event. NOW District pastors' wives: Be on the lookout for future opportunities to gather and be blessed!