Last month, NOW Start Network hosted its first in-person event in several years… and it was a HUGE success.
"Germinate" saw 32 leaders gathered at Immanuel Lutheran Church in Puyallup, Washington on April 21-22. Attendees heard from those who are actively "doing" the ministry starts in the Northwest – including Thr3e on the Avenue of Hope, an ambitious ministry idea launched by Immanuel that serves the community as a coffee shop, teen hangout/safe space, and much more.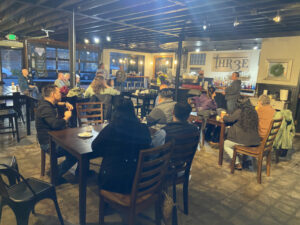 "I really enjoy training and working with the high schoolers that we have hired as baristas," said Immanuel's DCE, Amy Schweim, who also manages the coffee shop and community outreach ministry. "The relationships that I have been able to build with the students and the staff from the high school are incredible. And they are now asking me questions about Jesus and my relationship with Him. They also will ask for prayer requests."
People like to be around others who see sharing the Gospel in new and different ways — and this is something Schweim personally enjoys as well. She noted that there is something very energizing about being with those who think like you do and who see the church more than just the four walls of a building. Pam Bridgehouse was one of the attendees who was particularly inspired by what Schweim shared.
"I always enjoy the stories of people's imagination, courage, and creativity," she said. "The work being done at the coffee shop, Thr3e on the Ave, is absolutely inspiring. The creative and selfless way Immanuel congregation has adapted their church building to accommodate needs in the community is an example of stepping outside the box, opening their possessions and property, not closing themselves into a box – exemplary missional living."
Bridgehouse, who is president of Lutheran Latino Ministries, came along with a group. They used this time together as an opportunity to learn from others and grow as a team.
"Thanks to the mileage reimbursement from the District, and half-price registration for a team, there were 11 of us from LLM. Everyone in our group was tremendously impressed and inspired," she said. "We used the travel time to the conference as brainstorm time for strategic ministry planning. Nine of us came up on Friday and rented a house for the night. Over dinner, we discussed plans for LLM's ministry."
Some of the leaders from LLM were also recipients of the NOW Spark grant funding, which was awarded to the team who presented a unique ministry idea. They will use the $1,000 provided by LCEF for a catechism translation project to support an evangelistic Bible Study in the Mayan language, which is connecting people from Portland, Oregon with Mayan people in the Yucatan region of Mexico.
"NOW Start is a network of entrepreneurial leaders helping one another across the Northwest District," said Dust Kunkel, NOW District Director of Ministry Leadership. "It is one of the best things that is going on in the Northwest District because it is led from the ground up. Over the last few years, we have seen a number of new starts go from idea to implementation because of the network of leaders who partner together through NOW Start. I'm excited to see what happens next. It is going to be great!"
The featured speakers at this event included Jeremiah Drelleshak (owner of a barbershop ministry), Steve Tucker (part of a homeless housing effort in Seattle), and George Bedlion III (church planter). Bridgehouse noted some of the words that especially stuck with her.
"The speaker, George Bedlion III, is so energetic and open to following Jesus. His remarks reminded me a lot of Greg Finke's approach in Joining Jesus on His Mission," she said. "A few things he said really caught my attention. He mentioned two kinds of communities: one where people have to believe and behave in a certain way before they can belong; another where people can belong before they believe. He told stories of how his congregation was planted, has grown, and is changing as they focus on loving and serving people."
During the presentations, Bridgehouse jotted down new ideas to suggest to her congregation. She also hopes to look at her leadership style and habits to see what changes to make to empower confident leaders for the future of LLM.
Big things! Starting new all over the Northwest, thanks to NOW Start. And you can join too by catching the next All Network Call coming up on Saturday, July 15. Register at www.nowstart.net.