A very important note: In the spirit of collaboration and helping our leaders do their best work, the three districts on the West Coast continue to look for opportunities each year to work more closely together and develop resources that are beneficial to our workers and ministries. The Sabbatical Toolkit is the most recent example of this collaborative work.
Dear Friends in Christ,
"Immediately He (Jesus) made the disciples get into the boat and go before him to the other side, while he dismissed the crowds. And after he had dismissed the crowds, he went up on the mountain by himself to pray. When evening came, he was there alone…"  (Matthew 14:22-23)
Jesus had the habit of taking time apart. The Gospels describe His pattern of stepping away from the crowds and His followers and spending time alone in contemplation and prayer. It's a rhythm to life that works for His servants, too. This toolkit, developed and curated by the staff of all three of our West Coast districts, comes with the prayer that it might be a blessing to our full-time, 12-month-employed ministers (ordained and commissioned), and our lay leaders who will support the planning and provision of sabbaticals. Ministry has become more and more demanding as the pressure of service in a challenging cultural environment and burgeoning technology continues to grow, and it's crucial to meet these demands with fresh resources.
To our workers:
It is important that you see the sabbatical in a different light than vacation time. Anyone serving full-time in a front-line ministry leadership role (pastors, school administrators, early childhood directors, DCEs, etc.) should build sabbatical into their long-term work plan. When this toolkit refers to "minister," it means you! Sabbaticals are an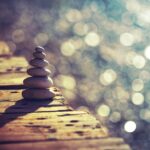 opportunity to fill your cup with renewed energy, vision, and purpose. It requires a different rhythm of life that seeks to prepare for the next step while balancing the need for physical, mental, and emotional recovery. It takes a plan and
intentionality.
To our lay leaders:
A sabbatical is an investment a ministry makes in its leaders. It's not a vacation or time off. It is a purposeful effort in retooling the skills and perspectives a leader needs to be the best they can be. Your support of this effort to the ministry you serve is vital and must be vocal.
As you consider the possibility of initiating a sabbatical, see yourself as following the Lord's example. He knew what He needed, and He took action. Follow Him in the path ahead.
Serving the Lord and His people,
Rev. Dr. Paul Linnemann
President of the Northwest District of the Lutheran Church-Missouri Synod
Rev. Michael Lange
President of the California-Nevada-Hawaii District of the Lutheran Church-Missouri Synod
Rev. Dr. Michael Gibson
President of the Pacific Southwest District of the Lutheran Church-Missouri Synod