Has your congregation ever struggled with how to have a bigger presence in your local community? Are there organizations in your area that serve homeless youth, single moms, or other at-risk populations, who need a regular source of basic supplies? Have you tried other mission projects but found them to be overly complicated, expensive, or require uncomfortable, unsolicited personal contact on the doorsteps of strangers?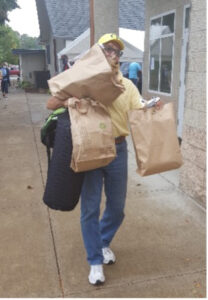 If you answered "YES" to any of these questions, we have a simple and accessible option for you! It's called the "Brown Bag Brigade."
A few years ago, in the midst of COVID, our congregation at Prince of Peace (Portland, Oregon) was facing a similar challenge about how to have a more intentional presence in our neighborhood and how to better support the needs of the local agency we partner with in our area that serves homeless youth. We wanted to keep everyone safe, so we didn't want to confront people by knocking on doors and putting them at risk of contact, or in the awkward position of responding to an immediate request. We didn't have a large budget, and we had limited volunteers. Then we hit on an idea. What if we found a way to clearly, but safely, provide an easy opportunity for our neighbors to support our mission by donating from a list of items – with no pressure and no obligation? From that discussion, the "Brown Bag Brigade" was born. And the best part is, ANY congregation can do this!
Here's how it works:
• Select an agency/cause to support and get a list of things they need (could be an internal ministry of your church)
• Acquire up to 500 brown grocery bags (purchase or donation). We suggest bags with handles
• Write a cover letter explaining who you are, what you are doing, and a list of needed items (attach one to each bag)
• Select a neighborhood close by in which to distribute empty bags
• Place one empty brown bag on each porch in the neighborhood with an invitation to fill with needed donations
• Go back a week later to collect filled bags from the porches of those who choose to participate
• Sort and deliver the donations to the agency/cause that needs them
• Celebrate God's goodness and the generosity of His people!
• Take a break, then repeat in another nearby neighborhood as needed
This project is simple, effective, and accomplishes a number of important goals. With the cover letter on church stationary, it gets the name of your congregation placed in front of every home in a local neighborhood – raising the awareness of your church and its ministry with your neighbors. It eliminates all the typical hurdles to participation by bringing an opportunity to help directly to people's doorstep, providing a receptacle for donations, and includes FREE collection and delivery to the agency/cause in need. It can be scaled to whatever size your congregation can accommodate. It can be done multiple times in a year in different neighborhoods in your area. It can be done for the same agency/cause, or for a different agency/cause each time. It worked perfectly during COVID, as it required no contact or interaction with anyone, so everyone stayed safe. It is completely voluntary on the part of those who receive a bag. If they choose not to participate, they get a free bag!
Other options that we have chosen to include as this process has grown and developed over many collections:
• Include your church/organization website URL or QR code on the cover letter
• Include worship service times (if applicable)
• Include a tax donation Form (if applicable)
• Include an invitation to fill out a prayer request – as well as a totally voluntary option to include their name and contact information if desired, confirming that we will pray for the need even if anonymous
We have found this method of local outreach and mission to be a blessing to our congregation. We hope that it will inspire you as well! If anyone would like more information or to have a conversation about this project, we would be happy to connect with you. Simply contact us via email or phone. May God bless your ministry!!
Peace, in Christ
Pastor – Dan Haugen
Director of Christian Education – Jeff Kranich
Prince of Peace Lutheran Church & School
14175 NW Cornell Road
Portland, Oregon 97229
pastor@princeofpeacelc.org
jeff@princeofpeacelc.org
Office: 503-645-1211
www.princeofpeacelc.org
For those who like details, the following explains every aspect of the project as we do it at Prince of Peace. Anyone can adjust or adapt the process to fit your needs: Brown Bag Mission Outreach Step-by Step Instructions.