At the end of 2022, Alaska Mission for Christ (AMC) held its 30th Anniversary dinner celebration. This event was a celebration of all that God has done – and continues to do – in Alaska through this ministry partner.
As AMC celebrates 30 years in mission, they give thanks to God for His vast provision. From missionary servants, dedicated volunteers, community leaders, ministry partners, donors, Board members, and staff, God has provided everything needed in His perfect time.
Some of the many ways AMC serves the community include Vacation Bible School, arts/sports camps, ministry outreach meals, care for the homeless, disaster response, worship services, food relief boxes, and much more. They also have rich partnerships with LCMS congregations, Anchor Lutheran School, Lutheran Social Services, Catholic Social Services, Juneau Pregnancy Resource, Echo Ranch Bible Camp, Love, Inc., and others.
Foundational ministry work began in the 1980s, spearheaded by Anchorage pastor Chris Reinke. In conversation with a Native Alaskan man, it was revealed that this man had never heard of Jesus. Hearing this spurned Rev. Reinke's heart to reach all Alaskans with the Good News of Jesus. Thus began a ministry to equip local leaders and have them minister to communities that could not support a traditional pastor. More than 60 lay leaders have been trained across the state through this ministry, working with pastors to bring God's Word and Sacraments to those in need.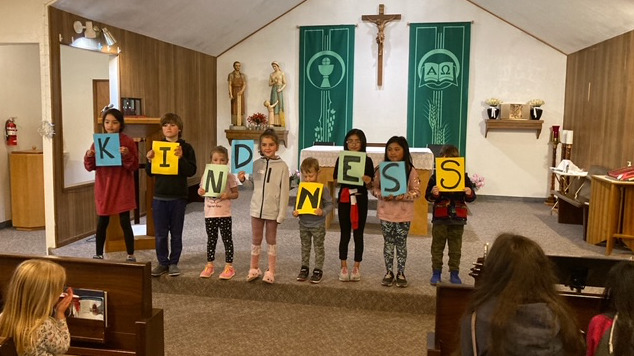 Throughout the following years, the ministry of AMC grew exponentially with the inclusion of multiple pastors, missionaries, and volunteer teams to coincide with Word & Sacrament outreach. The relationships built in many communities have blossomed in a profound intergenerational way. We are now seeing children who came to faith through VBS 20 years ago have their children baptized and attend events.
Looking back on these last years of significant, life-changing ministry, AMC is filled with overwhelming gratitude to the fellowship of believers and Christ, Himself, who saved us by His cross. All are invited to join them as they continue moving forward in faith so that all Alaskans might hear of Jesus' profound, saving love.
Visit www.alaskamissionforchrist.org for more info.